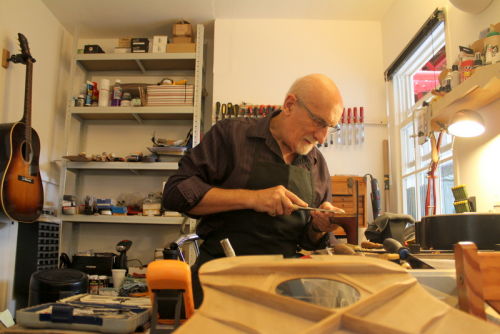 I provide a bespoke mobile luthiery service for acoustic and electric guitars. I collect your guitar, carry-out the work in my workshop and return it to you. I am out in all weathers so you don't have to be!
I work on steel-strung or nylon-strung acoustic and electric guitars with requirements including a re-string, a full set-up, a re-fret, a neck reset, a pick-up installation or change, a full restoration or repair after accident damage.
I have a long list of loyal and repeat customers for repair and restoration work but I am always happy to help new customers with this sort of work as well.  
Adjusting, upgrading, altering and repairing guitars is something I have been doing for many years. I've also built some guitars as well; both electric and acoustic. I received my training from Vince Hockey, the longstanding CF Martin vintage warranty repair man and respected guitar-maker in his own right, and David Whiteman.
David Whiteman is an established and internationally known guitar-maker who was previously a senior lecturer in Musical Instrument Technology at the London School of Furniture. David and I work together as White Crow Guitarworks to offer guitar set-up courses of various levels. Please click on the White Crow tab, above, for more information.
Please contact me on 07899 69 68 68 or by email at: davidcrozierguitars@gmail.com